Digitization. Decarbonization. Decentralization. These three forces are speeding disruption in the energy industry, according to EY. So much so that earlier estimates for when alternative energies would be viable are being blown past. EY says that they've brought their estimate of the "tipping point" for when alternative energies are more prevalent than fossil fuel energies two years earlier based on new research.
The EY report found that "the business-to-business distributed generation movement will be the real game changer. The impact of corporates embracing renewables will hit energy companies hard within a far shorter time frame, bringing the tipping points forward in some markets."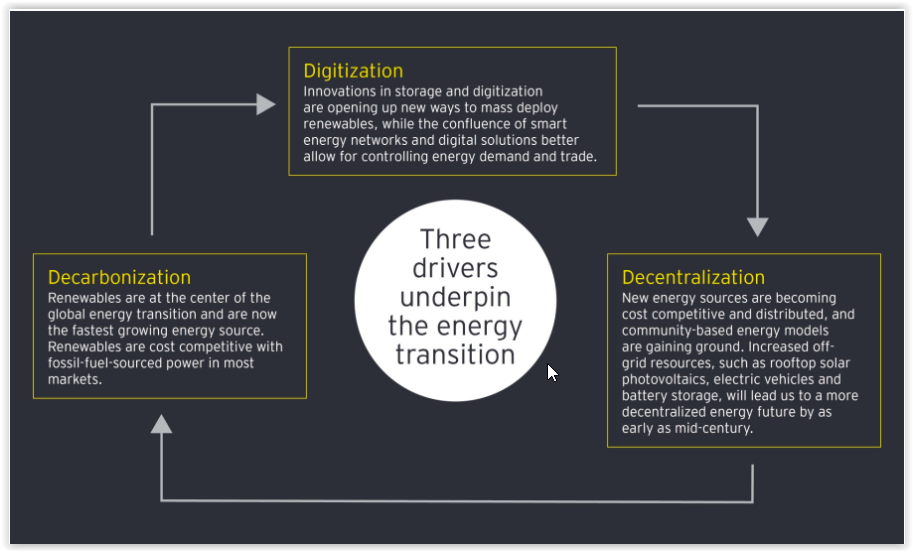 Businesses and governments are generating their own electricity because of sustainability targets, a desire to cut costs, and a desire to boost energy security.
Alternative energies have become a darling among private equity firms and venture capitalists. There has been enormous interest and the ventures and investors have grown rapidly. EY says that this is contributing to the "snowball effect" in spurring adoption.
Alternative energies will spawn a future based on electricity. EY says that "for energy companies, adapting to the electrification of transport and its impact on system load, peak demand and storage potential will be critical to their future. Now is the time to consider just how to play a role in this new world: doing nothing is not an option."