An organization's engineering documents and drawings are a critical business asset – many times, it's the source of its competitive advantage in an industry. Keeping these documents current with the most recent changes and comments is essential. While these documents must be easily accessible to the design and production teams, they also need to be protected from unauthorized users within the organization and from competitors.
Formtek Engineering Data Management (EDM) solutions provide flexible yet secure access to your engineering information. It allows authorized users to quickly search and retrieve the latest document versions, as well as access historical information for reference when making and managing changes. All your documents are stored in a secure multi-level repository.
The Formtek EDM Solution for Alfresco is comprised of two components.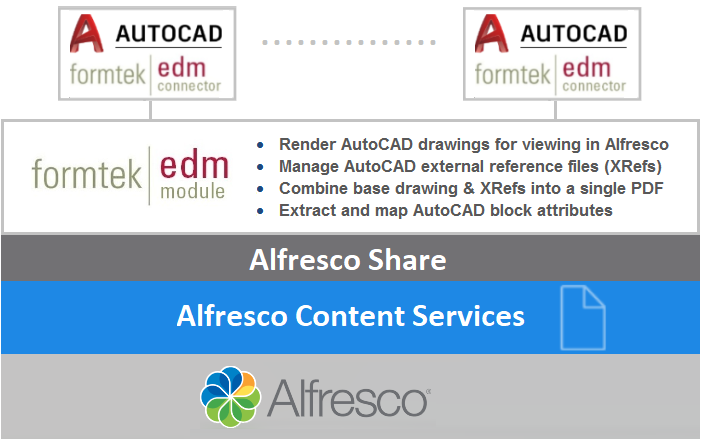 The Formtek Engineering Data Management Module is pre-configured with Engineering Drawing and Engineering Document types with view, edit and search forms specific to an Engineering organization's needs. The EDM Module includes a converter which renders flash and thumbnail images of dwg, dwf, and dxf drawing types. The EDM Module can also extract and map attributes, including title block attributes, present in DWG or DXF files.  With some configuration, the extracted data can be mapped to standard EDM content model properties.  If Formtek's free PDF Rendering Extension is installed, these drawing file types can be converted to PDF, on-demand.
The Formtek EDM Connector for AutoCAD® is a plug-in installed on each AutoCAD client. It integrates AutoCAD and the Alfresco repository, via the Formtek EDM Module.
For more information about the EDM Solution for Alfresco, watch this short video.