The Security Assertion Markup Language (SAML) is a protocol that allows authentication and authorization between security domains. One domain acts as an identity provider and the other as the consumer. Transaction packets are represented in XML. The SAML specification was developed by the OASIS Security Services Technical Committee.
SAML has been applied to solving the problem of Single Sign-On (SSO) among multiple application sessions running in the same user environment. The problem of single sign-on is a tricky one, and solutions, most of which are non-compatible and proprietary, are usually designed to work only within a specific intranet. And those solutions typically break down or just don't work well when applied across applications running on the web. This is exactly the problem that SAML addresses, and it has become accepted as one of the best tools for addressing enterprise identity management problems.
Like many web services specification, SAML has been out there for some time but it has taken the back seat while people needed to first just to get comfortable with the basics of web services. That's happened and now people are looking deeper in the technology. SAML and indentity management in general are now beginning to get a lot of attention now.
Google Apps is an example of an application that uses SAML to achieve single sign-on. In an example provided by eWeek, access to Google Apps was controlled by user identities stored in a Microsoft Active Directory. The SAML/Active Directory integration was accomplished using Sxip identity software. When a user would attempt to log into Google Apps, Google was configured to generate a SAML request that redirected the user to a custom SSO login URL that could perform authentication and then send back a SAML response that is passed onto Google. If the user-entered credentials were correct, the user would then be granted access to Google Apps.
An advantage of this approach is that user identities can be centrally managed, eliminating the need to be able to add, delete and maintain users within the Google Apps administrator module.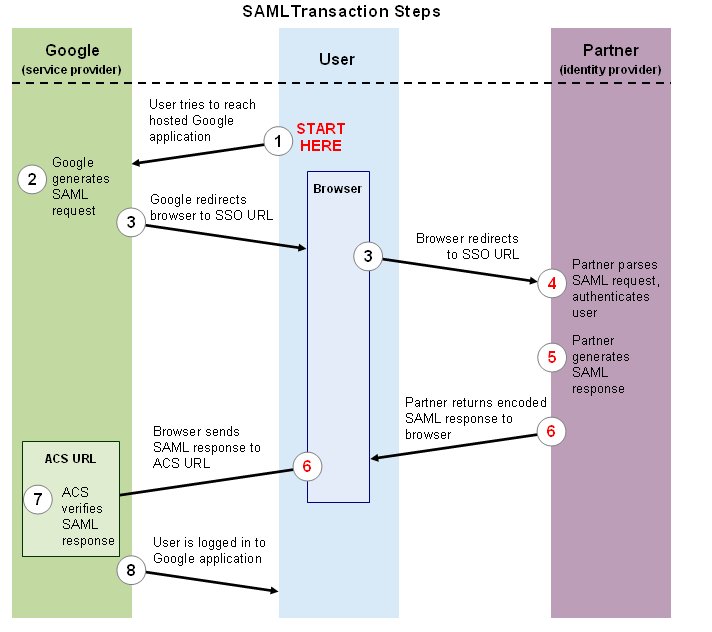 SAML identity providers include the Central Authentication Service developed by Yale University.